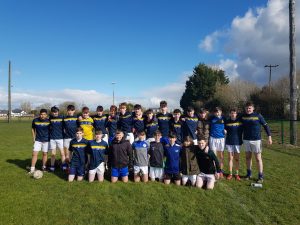 Well done to our under 16.5 football team who have progressed to a Munster Semi Final after a hard fought victory over North Monastery of Cork.
In what was the brightest day of the year CTI got off to a blistering start with a well worked goal from Ben Smith and followed up by a point from centre back Sean Boyce. North Monastery fought back after the tough start to level the game scoring 1-01 without reply.
CTI were playing against the wind in the first half but they worked the ball up the field on numerous occasions which resulted in some profits in the form a brace of goals from Michael O Sullivan. Just before half time North Mon rallied and came back scoring 1-02 without reply.
Going into the second half CTI knew that they couldn't afford to get complacent as they were up against a good Cork footballing side, within two minutes of the restart Ben O'Connell carried the ball from midfield to score a wonderful goal. With this North Monastery rallied and scored 5 points with out reply, there were a couple of moments of panic but goal keeper Conor Grant and full back Sam McGowran were ever secure under pressure. In the finish CTI went on to tag on another couple of points to win by 5 points. This was a great game of football in what were great conditions for the game. Great performances all round from CTI who battled to the end.
Due to the bad weather there is a back log of games, with this CTI will have to wait until after the Easter break to find out who their opposition are.
Team:
Conor Grant, Cian Dunphy, Sam McGowran, Sean Kenny, Luke Cashman, Sean Boyce, Niall Walsh, Sean Walsh, Danny Dunne, Ben Smith, Ben O'Connell, Michael O'Sullivan, Oisin Power, David Cagney, Keenan Curtin.