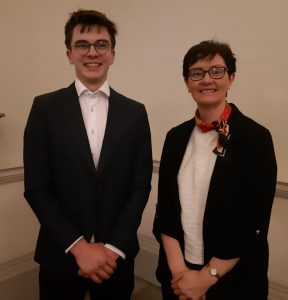 Pictured above are Oisín de Barra and Ms Murphy
in Trinity College for the Entrance Exhibition Awards.
Oisín recently won the Entrance Echibition Award scolarship to Trinity College Dublin which was based on his outstanding Leaving Certificate results. While in school Oisín studies Construction Studies, Engineering and Physics all subjects which gave him a solid foundation to progress on the Engineering path.