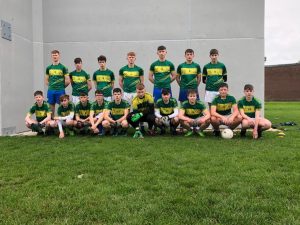 CTI Clonmel 4-5 Ennistymon VS 2-7
Our senior footballers kicked off their campaign against Ennistymon today in a rain and wind swept Limerick. The wind had a big factor in this game with CTI starting well with two goals from Lar Walsh and and Sean Hawkins. The Ennistymon side found it hard to battle against the wind as they only managed to 1-2 in the first half. This was the opposite for CTI as they managed to score another two goals (Lar Walsh & Jake Maunsell) as well as points from Sean Hawkins, Niall Walsh, Ben O Connell and Luca Dennehy. This gave CTI a lead that they knew they would need as they would be against the wind in the second half.
The second half was a half where our backs and goalie Conor Grant showed their value. The Ennistymon attack went for the jugular but could not find a way past Conor in goal and a back line lead by Sam McGowran who was rock solid at full back. The lads now progress to round two which takes place after the midterm, before this they play the Tipperary quater final against Roscrea this Friday in Holycross.
Team and scorers:
Conor Grant, Keenan Curtin, Sam McGowran, Eoin Freaney, Sean Kenny, Sean Boyce, Oisin Power, Michael O Sullivan, Niall Walsh (0-1), David Cagney, Lar Walsh (2-0), Luca Dennehy (0-1), Sean Hawkins (1-1), Ben O Connell (0-2), Jake Maunsell (1-0)
Subs:
Dylan Fahey for Eoin Freaney
John Molloy for Sean Hawkins
Lennon Foran for Keenan Curtin