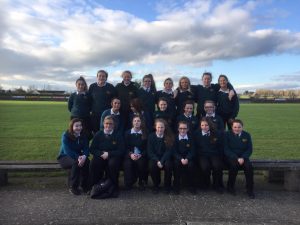 C.T.I. Clonmel Vrs North Presentation Cork
3.13 to 1.01
On a cold winter's morning our senior ladies football team made the short commute to Monroe to take on the North Presentation Cork in a Munster Quarter Final. Our ladies started off at a blistering pace with Ava Collins and Ciara Nic Réamainn taking control of the midfield and Aoibhinn Chaoinleáin adding a couple of early scores. Through hard work and determination, C.T.I. gained an early lead and kept the opposition scoreless for the first half. There was some superb score taking to be seen, with Ava Collins, Charlotte Concannon and Megan Fahey all proving accurate throughout. North Presentation enjoyed early chances in the second half but thanks to the great defending of Saskia Cuddy, Robyn Hill and Roisín McGrath they were unable to reap any rewards.
Central Technical Institute Clonmel,
Kaitlyn Riagán, Roisín Mcgrath, Kate Breathnach, Rogyn Hill, Saskia Cuddy, Holly Prút, Sophia Farrell, Ciara Nic Réamainn, Ava Collins, Aoibhínn Chaoinleáin, Megan Fahey, Aideen Prút, Rhiannon Shé, Charlotte Concannon, Anna May Ní Mhuireasa, Courtney Joyce, Diana Puieste, Natasha Griffin, Abbie Ní Sé, Heather Griffin.